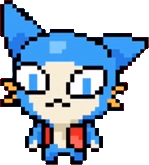 Nelson is a blue cat-like Pakka. He show you the basics of the game, give you a starter kit for your Pakka, and show you how to take care of your Pakka.
After the tutorial is over, you can only meet him in Pakka Town at the plaza when you are with Teesprout, where he will teach you about quests and offer you a starter quest.
Ad blocker interference detected!
Wikia is a free-to-use site that makes money from advertising. We have a modified experience for viewers using ad blockers

Wikia is not accessible if you've made further modifications. Remove the custom ad blocker rule(s) and the page will load as expected.